Ningura Napurrula - WOMEN'S CEREMONY NN1723
BACK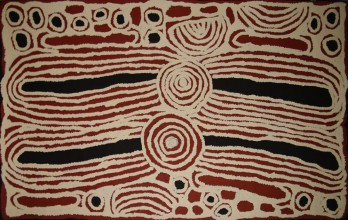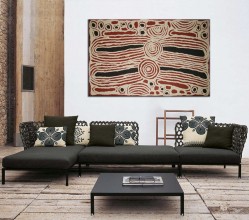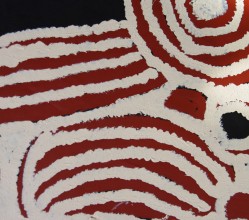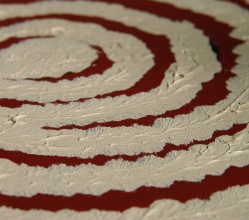 Ningura Napurrula - WOMEN'S CEREMONY NN1723
Artist: Ningura Napurrula
Title: Women's Ceremony
Size: 200 x 124 cm
Medium: Acrylic on Linen
PROVENANCE
The provenance of works of fine art is of great significance, especially to their owner. There are a number of reasons why painting provenance is important. A good provenance increases the value of a painting, and establishing provenance may help confirm the date, artist and the subject of a painting. It may confirm whether a painting is genuinely of the period it seems to date from. Documented evidence of provenance for an object can help to establish that it has not been altered and is not a forgery, a reproduction, stolen or looted art. Provenance helps assign the work to a known artist, and a documented history can be of use in helping to prove ownership.
All artworks of our Gallery come with a AAA Gallery Certificate of Authenticity and where possible, working photographs and/or a photo of the artist with the artwork and/or video of an artist in working process of creating an artwork.
CERTIFICATE OF AUTHENTICITY
Read More
Lay-by is a system of paying a deposit to secure an article for later purchase. AAA Gallery offers you a four-month lay-by option on all artworks, allowing you to make regular payments towards that artwork you like.
A 25% initial deposit is required with the balance paid over a maximum of four months. You will not be penalised if you prefer to pay your purchase sooner. Once you finalise the payments the goods will be dispatched immediately.
If this payment method is chosen when you checkout, we will email you a lay-by agreement to organise first instalment and subsequent the other three equal payments.
Please contact us if you have any questions.
Read More
SHARE THIS PRODUCT
Artist: Ningura Napurrula
Skin Name: Napurrula
Born: c.1938 - 2013
Region: Kiwirrkura
Language: Pintupi
Subjects and Themes(Dreaming): Travels of her female ancestors, the sites they passed and the bush tucker they collected.
ABOUT ARTIST
Ningura Napurrula was born around 1938 at Watulka, south of Kiwirrkura in Western Australia. She was married to
Pintupi artist Yala Yala Gibbs Tjungurrayi, a leading figure, who died in 1998. Ningura's blossoming of Aboriginal art famously began at Papunya in 1970`s. Overs years, Ningura observed the senior artists in Papunya working on large paintings and listened to them discussing the importance of the story layout and the meaning behind each peice. The painting syle derives from the artist`s knowledge of traditional body and sand painting associated with ancient ceremonies.
In 2000, Ningura had her first solo exhibition with William Mora Aboriginal Art, and participated in the impressive Kintore Women's Painting for the Papunya Tula retrospective at the Art Gallery of NSW.
In 2003, Australia Post celebrated her work by featuring it on stamps. Iin 2006, she gain worldwide attintion when her work was used to decorate a building at the Musee du Quai Branly in Paris, an art museum specialising in indigenous art from all around the world. Her art is unique because this women grew up in the desert and as a young person had no contact with western civilisation.
GROUP EXHIBITIONS:
2006 Papunya Tula Artists - across the board, Utopia Arts Sydney, Sydney
2006 Oceanic Art, Galerie DAD, Paris, France
2005 Papunya Tula Artists, Gallery Gabrielle Pizzi, Melbourne
2005 Papunya Tula Artists - new work for a new space, Utopia Art Sydney
2005 Repetition, Fire - Works Gallery, Brisbane
2004 Mythology and Reality - Contemporary Aboriginal Desert Art from the Gabrielle Pizzi Collection, Heidi Museum of Modern Art, Melbourne
2004 Peintres Pintupi, Galerie DAD, Mantes-la-Jolie, France
2003 'Masterpieces from the Western Desert', Gavin Graham Gallery, London, United Kingdom
2003 'Australian Contemporary Aboriginal Art in Prague', Toskansky Place, Prague, Czech Republic
2003 Gallery Gabrielle Pizzi, Melbourne
2003 Glen Eira City Council Gallery, Melbourne
2002 Araluen Arts Centre, Alice Springs
2001 'Aborigena' at the Palazzo Bricherasio, Turin, Italy; Pintupi, Alice Spring
SOLO EXHIBITIONS:
2000 William Mora Galleries, Melbourne, Victoria, Australia
COLLECTIONS:
Australian Institute for Aboriginal and Torres Strait Islander Studies (AIATSIS), Canberra
Museum and Art Gallery of the Northern Territory, Darwin
National Gallery of Australia, Canberra
Art Gallery of New South Wales, Sydney
Redrock gallery, Melbourne
Gabrielle Pizzi Collection, Melbourne
AWARDS:
2003 Australia Post celebrated her work by featuring it on stamps
2002 32nd Alice Prize, Highly Commended
2001 Finalist 18th Telstra NATSIAA
SOURCE: Birnberg, M & Kreczmanski, JB 2004, Aboriginal artists dictionary of biographies: Western Desert, Central Desert and Kimberley Region, 1st edn., JB Publishing, Marleston.
The painting depicts Aboriginal iconography which refers to the Dreamtime female ancestors and their travels.
MORE ARTWORKS BY THE ARTIST